DMS Operating Software & Firmware
Software Downloads:
DMS Control Application (Windows XP or greater):
Minimum Sensor Firmware version:
DMS, mDMS, muDMS: 2.615
microDMS: 3.301

Firmware Update Application:


LabVew Examples:


LabView Examples (2018-01-19) (LV 2013, older compiler versions on request)


Older versions of DMS control:
DMS control Version 1.51 exe installer

CMS Control Application (Windows 8 or greater):
note:For wireless modules only
Optimized for tablet display

CMS Control Version 4.11
CMS Control Version 4.10


Starting with version 2.606 the sensor will default to 19.2Kbps after powerup. The sensor speed can then be changed to a new value. If you need the sensor to remain at another bps after power up use the 'r' channel command (RS232 force) to permanently turn this feature off in your sensor.
Reference: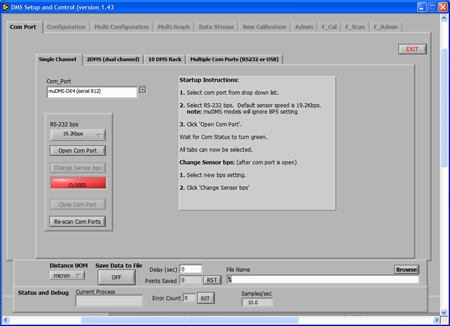 RS232 Command Reference
Note: Serial port commands are the same for both the full size DMS and the miniDMS.