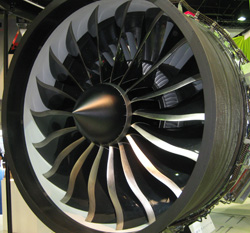 Aircraft Engine Tests
Conditions
Bird Strikes
Catastrophic Loss of an Engine
Sensor Requirements
30 mm Displacement of Engine Support Structure
Side-Viewing Probes
12 m Fiberoptic Cables
20 KHz Sensor Bandwidth
High Speed Compressor Blade Vibration Tests
The compressor test rig uses a small axial blisk from a 2 stage LTS101 Turboshaft Engine.
A High Speed Philtec D63 Probe was attached to the shroud and pointed radially inward at the blade tips.
Blade vibration can be detected directly from the deviation in expected arrival time curves for each blade.