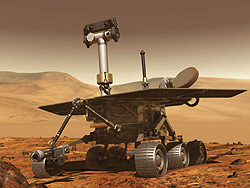 Space Craft
Mars Rover Mission
Nasa's JPL developed a Sonic Driller to drill core samples of rocks on Mars. Philtec's sensor was used to characterize the harmonic analysis and axial motion of the drill because it can detect high frequency low amplitude motions.
Philtec sensor model RC25-HQ was used to characterize the harmonic analysis and axial motion of the drill.
Satellite Propulsion Thrust Testing
Busek Test Stand
Busek performs these measurements via custom-built thrust stands. Thruster performance is gauged by directly measuring the linear force output. Two major requirements were accuracy and complete resistance to stray electrical noise. By equating the applied thrust with the linear displacement via Philtec D63 fiber optic displacement sensors, the force output can be measured precisely and noise free.
Note: The Philtec probes operate in vacuum and are equipped with vacuum passthru hardware to route the electronics outside the test chamber.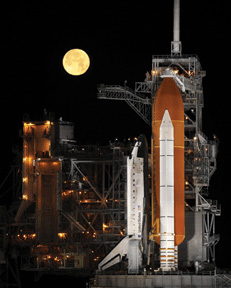 Space Shuttle
NASA's Marshall Space Flight Center used Philtec probes in a LOX pressurized cryogenic environment to monitor bearing deflections in the Space Shuttle Main Engine.
In the wake of the Challenger disaster, Thiokol engineers used Philtec sensors installed between the joints of rocket sections to determine how much separation occurred during firing.
Probes For Cryogenic Turbo Pump
To Measure Shaft Displacements
Operating Environment
Liquid Hydrogen (probe tip immersed)
Operational Temp: -420°F
Non-Op Temp: 0°F to 130°F
Pressure: 2500psia (max)
Operating Environment
Hydrogen Gas (probe tip immersed)
Operational Temp: 40°F
Pressure: 1000 psig
James Webb Space Telescope
Philtec sensors & vacuum passthru hardware were used to measure displacements of critical components of this Hubble Replacement Telescope as they were brought down to the cold temperatures of outer space.
Philtec sensors were used to measure micron level mirror adjustments in high vacuum.
ESA's Sentinel 3 Satellite
A Philtec 6-channel displacement measurement system with vacuum passthru hardware was used to measure displacements and calculate rotations of the satellite's focal plane structure.