Application Notes for Vibrations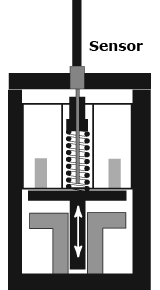 Vibrations
Measurements of valve and actuator dynamics require very small sensors with wide bandwidth. Philtec fiberoptics are perfectly suited for these applications.
Target Conditions:
Total Movement: 40 microns
Target Diameter: 1.3 mm
Target Surface: Slightly Concave Ground Steel Submerged In Oil
Solution:

Model D20 - B+H1GO
The customer chose a model D20 sensor (Ø 0.5 mm fiberoptics) with standard tip dimensions Ø 0.8 mm x 38 mm L, and a replaceable tip where the connector is mounted directly on the amplifier.
The best resolution is on the near side, however that places the tip too close to the target. Therefore, the far side response was used. To get better resolution for the application, an additional output was added; Option H1 at 50 KHz, which included 10x gain and adjustable offset.
The sensor tip and concave target are submerged in a light caramel colored oil. The customer elected to perform his own in-place calibrations.