D Model Sensors: Reflectance Dependent ANALOG OUTPUT
Direction of Target Motion
D models are commonly used for measurements to objects moving parallel to the axis of the sensor.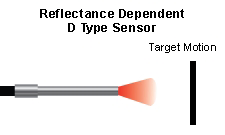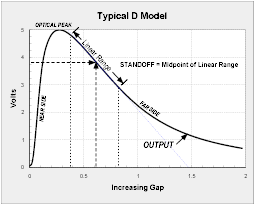 The output voltage function for D model sensors includes a near side region where the voltage rises with increasing distance, an optical peak region, and a far side region where the voltage output decreases with increasing distance. Operation in the near side region gives high sensitivity with limited operating range. Operation in the far side region gives moderate sensitivity with greater operating range.
D Type sensors are fast responding units ideal for dynamic applications with single axis motion such as found in actuators, pistons and valves.
DC-20 KHz is standard
DC-200 KHz or higher is optional
DC-100 Hz provides best resolution
Standard analog units include:
Electronics with 0 to +5 VDC output
3 foot long fiberoptic cable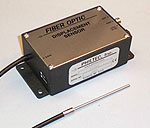 | Model | Tip Diameter | Total Range | Near Side Range | Near Side Resolution at 100Hz | Far Side Range | Far Side Resolution at 100Hz |
| --- | --- | --- | --- | --- | --- | --- |
| | mm | mm | mm | µm | mm | µm |
| D6 | 0.56 | 1 | 0.25 | 0.080 | 0.75 | 0.15 |
| D12 | 0.56 | 2 | 0.25 | 0.008 | 1.75 | 0.10 |
| D20 | 0.81 | 1.3 | 0.12 | 0.008 | 1.15 | 0.04 |
| D21 | 0.81 | 2 | 0.25 | 0.015 | 1.75 | 0.15 |
| D47 | 1.61 | 5 | 0.3 | 0.01 | 4.7 | 0.10 |
| D63 | 3.18 | 3 | 0.15 | 0.002 | 2.85 | 0.13 |
| D64 | 3.18 | 6 | 0.3 | 0.008 | 5.7 | 0.13 |
| D100 | 3.18 | 10 | 0.4 | 0.013 | 9.6 | 0.2 |
| D125 | 3.96 | 15 | 0.4 | 0.002 | 14.6 | 0.13 |
| D169 | 4.76 | 20 | 0.5 | 0.008 | 19.5 | 1.25 |
| D170 | 4.76 | 30 | 0.9 | 0.008 | 29.1 | 0.6 |
| D171 | 4.76 | 50 | 10 | 0.13 | 40 | 0.6 |
| D240 | 7.92 | 76 | 14 | 0.5 | 62 | 1 |