Digital Output
Linearized distance output via RS232 or USB with 5KHz maximum data rates.
Includes Philtec's DMS Control Software To:
Setup Sensors For Operation
Select Calibration Tables For Specific Targets
Store Additional Calibrations
View Live Graphs Of Sensor Outputs
Save Data To File
DMS - Displacement Measurement Systems with Serial Communication
Standard units can be operated locally via keypad or remotely via RS232. They have a 152 x 102 x 57 mm (6 x 4 x 2.25 inch) electronics package with 2-line display. RC type DMS units can output distance and reflectance. Dualchannel units can display dual channel readings. Price includes RS232 cable, Philtec DMS Setup and Control Software, LabviewTM drivers, a sensor tip with 3 foot long fiberoptic cable and AC/DC power adaptor.
All units have full-featured capability for:
Amplifier Temperature Stabilization
Calibration Scaling & Storage
Data Averaging
5,000 Samples/Sec Max. per RS232 port
Peak-to-Peak Amplitudes
Tared Readings
Total Runout, T.I.R.
D Model Digital Sensor options
Displacement Measurement Systems (DMS) are the best choice for absolute distance measurements, multiplexing and process control applications, with data rates up to 5,000 readings/second. They provide linearized distance output and on board calibration storage capacity for 25 calibrations. Three types are available, each equipped with temperature stabilized electronics: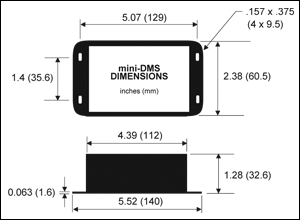 Standard DMS Units
These units include:
Electronics with RS-232 communication
Keypad/LCD for local operation
Mini-DMS Units
Mini-DMS units are full featured for PC operation via RS232 communication, they are not equipped with keypad/display.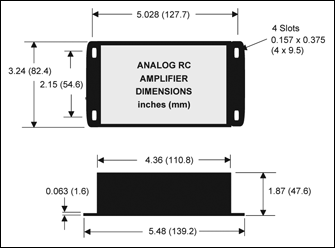 muDMS Units
muDMS units are full-featured for PC operation via USB communication, they are not equipped with keypad/display. They are supplied in the RC analog sensor enclosure, 82 x 111 x 48 mm.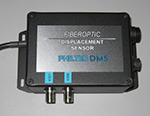 Amplifier Options
Option Code
Feature
A
Provides two additional 12 bit analog outputs for muDMS sensors with USB output.
R1
AMBIENT LIGHT REJECTION - STANDARD UNITS ARE SENSITIVE TO BROADBAND LIGHT FROM 400 - 1100 nm. WITH OPTION R1, INCOMING LIGHT IS BLOCKED FROM <800 to >900 nm.
R2
BLUE LIGHT FILTER, 470 nm ±50 nm.